Company Profile
Company: Maysteel LLC
Size: €125M
Location: USA
Machine: Planar P220.50 X 2
Maysteel LLC were established in 1937 in Wisconsin, USA. They are a full-service supplier of sheet metal manufacturing solutions, providing engineering and design services for metal enclosures.
"Maysteel began much like our customers' products.", explains Kevin Matkin, President of Maysteel. "We started with a concept, to fulfil a market gap, now we are a full-service supplier, from concept to finished product".
Over the last 75 years Maysteel have grown from a small company with just 20 people into a company with over 500 employees. They have multiple production facilities and are a trusted partner to Fortune 100 companies around the world.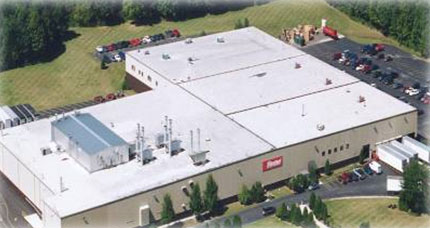 Maysteel's Allenton headquarters is located north of Milwaukee, Wisconsin. It's also home to the Maysteel's rst Planar P220.50 machine.The Planar system has been specially designed to verify and reverse engineer sheet metal parts which have been manufactured on laser, plasma and water jet cutting systems as well as punched, and stamped parts.
According to Mike Dreikosen Senior Manufacturing Engineer at Maysteel,"ensuring the quality of our product is essential at Maysteel. We have over 16 CNC turret punching machines, 2 turret/laser combo machines and a free standing laser machine. We use the InspecVision Planar machine to verify the output from all these machines!"
With manual inspection methods such as calipers and hand tools verification of each part could take hours. So what attracted Maysteel to the Planar machine when they decided to take their inspection capabilities to the next level? "The system is extremely fast, extremely accurate and can be placed directly on the shop oor next to the punching machines. Its also easy to operate, so our CNC operators perform their own checks.", says Mike.
"The system is extremely fast, extremely accurate and can be placed directly on the shop floor next to the punching machines."

— Mike Dreikosen, Senior Manufacturing Engineer, Maysteel LLC
Many optical inspection machines are sensitive to scratches on the glass, vibrations have sensitive moving parts and so on...well according to Mike, "the Planar machine has no moving parts, and requires little maintenance".
The Planar is the fastest 2D Inspection System of its kind in the world. Mike explains that "the scan time with our old FabriVision was up to 16.3 minutes, per part. The scan time of the InspecVision system was around a minute per part.The [Planar] machine justi ed itself!"
In fact Maysteel had no trouble justifying a second P220.50 system.
To find out more information about the Planar and how it can help your business; please download our online brochure and contact our sales team at sales@inspecvision.com.
"Its easy to operate, so our CNC operators perform their own checks..."

— Mike Dreikosen, Senior Manufacturing Engineer, Maysteel LLC